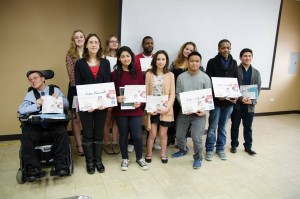 Letter To My Parents Contest Winners Chicago, IL.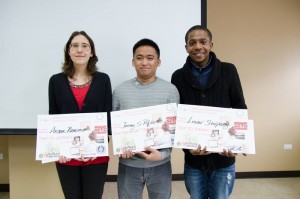 Left to right: 2016 Contest Award Recipients Anna Ramirez, Jeremy Poblete and Levar Stepney
Eleven letters, eleven life stories bringing changes into their lives and their community. The final presentation for the 2016 Letter to My Parents Contest in Chicago was held on March 19. 2016. After many entries, the top eleven letters were chosen. Once read out loud to their family, friends and community, all eleven participants received a $50 gift certificate along with a Certificate of Participation. Each contestant also received a "1 year Test-Prep Course Subscription" courtesy of BenchPrep. There were also three top winners! Levar Stepney and Anna Ramirez were chosen to travel to Japan and serve as delegate members of the 24th annual "Youth Cultural Exchange US-Mexico-Japan". Jeremy Sean Poblete received a $500 scholarship sponsored by Evelin Freytas from New York Life Insurance Company! Thank you and congratulations to all who participated!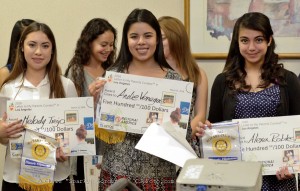 Powerful voices from future LA leaders bringing changes to their lives and their community through a letter, L.A CA.
We are happy to announce the winners of our Los Angeles based Letter to My Parents Contest 2016. Just like all our national contest winners, 9 of our Los Angeles winning team  received a $50 gift certificate along with a one year Test Prep Course Subscription courtesy of BenchPrep, as well as a full day pass for the upcoming Pacific Media Expo 2016, courtesy of Pacific Media Expo. The top 3 contest winners received $500 each for the following categories: Andie Venegas won in the category of Bravery, Melody Trejo for Reflection and Alexa Robles for Proposal. The contest is organized by the Historic Filipino Town Rotary Club and Reiyukai America. Congratulations to all participants!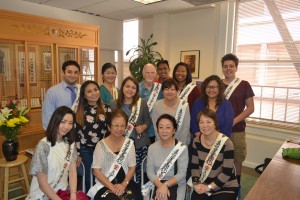 Make Things Happen!
A gathering of like minded spirits from various states united in Reiyukai America Pasadena Center for their annual Riyukai America National Committee Conference Weekend. The main focus for the gathering was to find answers to some important issues…What problems do we see in our community? What kind of care can Reiyukai provide for the community? Needless to say, by Sunday, all attendants had a clearer idea of what was to be their focus for the year 2016. Stay Tuned for up coming events!